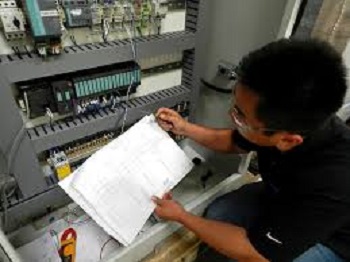 When you hire a commercial electrician for your business, you can expect services more than just attending to electrical faults or new wiring and connections. A good electrician can ensure that a business runs safely, and also make an optimum use of power, so that utility bills are always controlled.
These professionals, who mainly handle electrical work for organizations, factories and other businesses, will be able to advice you constantly on the energy efficient appliances that will help to keep costs under control. Some businesses work around the clock, and even those that do not, will have constant requirements for power to ensure security, advertising and other reasons. These electricians, to whom the work is entrusted, will be able to understand the actual load requirements, based on needs and be able to suggest ways and means to have optimum lighting at all times.
Electricians who constantly attend to the electrical installations in any commercial venture, will make sure that there are never any loose connections or other conditions in the electrical systems that are unsafe or causing an excessive use of power, through sparking and heat. They may also advise on the installation of environmentally friendly way of lighting and power that can help a commercial enterprise to claim rebates on energy usage.
Commercial electricians are by law required to be certified and also have licenses to practice in the area. Make sure that these certifications and licenses are valid before you appoint any electrician for your business. These certifications require that the electrician is trained and qualified to understand all aspects of electricity. This also ensures that they are constantly trained and updated on the latest regulations and standard operating practices so that that certification and license is renewed. The firm or agency that you appoint must also have the proper insurance and carry adequate bonds that assure you of their commitment to any contract you enter into for any work.
You should also be able to get guarantees for any work carried out by these certified electricians, and an assurance that all standards and regulations in force have been followed for the installation. In many cases, where permissions to start a business are required, authorities do insist on certificates from licensed electricians that all systems have complied with the technical requirements. You must be able to be assured of the services of any electrician that you appoint to be available to the business whenever required, as emergencies can always arise, especially in continuous process requirements. It makes sense to negotiate any rates for work after business hours, so that complaints and problems are attended to, without cost disputes ever coming into the picture.
There are benefits to appointing commercial electricians even for work that you need in a home. They are professionals who can undertake almost any type of electrical work, and will bring in a greater expertise into any work that they carry out. This ensures that your electrical systems are safe and wires and equipment used is of the best quality.